Let's go back to some actual guitar talk

I've been recently asked to record a guest solo for Chernobyl Studios (a metal mixing & production channel by Scott Elliott):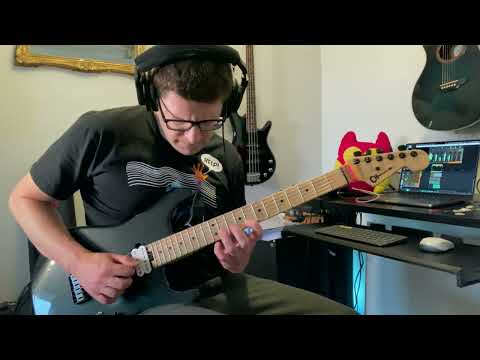 The progression is fairly common in metal (roughly Dm - C - Dm - C - F/C), so I did what I could to keep things interesting by having a contrast of fast / slow parts as well as emphasising chord tones VS extensions. The melodic parts also use a quarter-triplet feel to sort of pull down the energy before going bananas with the 16th notes. Tempo is 180bpm, which is still doable for me but defo feels like fast territory.
As usual I'm obsessed with multitracking: The two backing gtrs (double and harmony) are stereo-widened with a chorus, so they are on the sides and this way it sounds like I'm soloing everywhere in the stereo image. Also, I'm too shy to play alone

Scott was looking for something "flashy" so I did a few over-the top harmonised fast licks, essentially based on a generalisation of the "Pepsi Lick" pattern: the basic "picking unit" is 8 16th notes arranged as the following inside picking pattern:
DUD on the high E string + UDUDU on the B
It's basically a mixed escape pattern that breaks away just a little from the over-used "fixed number of notes per string" cliches of shred guitar.
You can of course make this pattern outside picking if you start on an upstroke, and you can even make it single-escape with strategic pulloffs and/or sweeps (details are left as an exercise to the reader, but I am happy to provide them if there's interest

)
Note Re: timing of the final arpeggio: the notation is totally approximate, and the timing of the arpeggio is kinda loose too. I just tried to squeeze the notes in the available time in a way that sounded good to me.
Hope some of you will have fun playing this and/ or using these ideas to come up with your own solo