It was confirmed, but without further details yet.
Rest in peace Alexi.
What the hell?? Rest in peace
No… No… I can't believe it. RIP. I've been following his career for about 15 years
He is my guitar hero. I'll miss his existence deeply. I hope we make some good use of his music, so he keeps alive on us.
This hurts. He was the shredder in the mid 00s when I started playing.
I've always loved and respected Alexi Laiho. Some of the first shred licks I learned were Laiho licks.
RIP Alexi, we all miss you.
This hit hard.
Alexi was to me what EVH was for many others.
I remember a friend sharing me a dodgy low bitrate mp3 of Bed of Razors when I was 14. I loved it and quickly became a huge fan of Bodom.
Then I came across a Finnish video interview showcasing his playing. I'd never been exposed to that level of ability on the guitar before or knew that it was even possible.
That moment was truly pivotal and inspired me to really take the guitar seriously and work to better my playing.
RIP Alexi and thank you.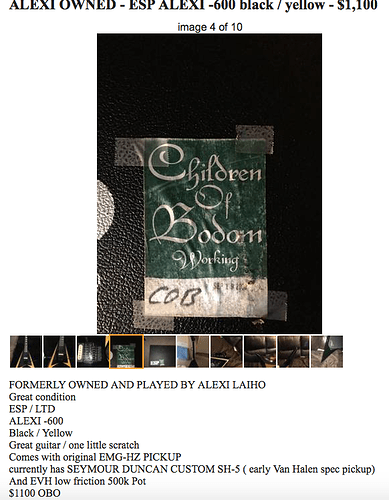 Craigslist Los Angeles – figured I'd post this, but I have zero connection to this ad. So "buyer beware," etc.
Laiho's death was caused by liver and pancreas failure. Both were damaged because of alcohol abuse. During his death he also had painkillers, opioids etc. in his system.
He never officially divorced from his "first" wife so she got the forensic report and wrote to Instagram about it. I don't have an IG account but here is her page: