I waited 3 years for this guitar while Scott Lentz did his thing.
A few years later I had a brain fart and sold it.
Had the rare opportunity to buy my guitar back after five years.
Reached me today, I'm over the moon, to say the least.
I'm still trying to figure it out, to be honest, I was primarily of a single-coil guy up all my life. I can't recollect the reasoning behind me ordering the guitar, I think some clips from 'myspace' back then caught my attention. There was a clarity of attack I hadn't heard before perhaps. When I did finally get the guitar, I didn't play it much!
The last three years, I played 9 to 12 hours most days, never missed a single day for the first two years. I played more guitar than I ever did in 25.
All started with a Friedman BEOD, soon after and quite accidentally YJM signature strat, again quite serendipitously to an RR100 & 1960B, the same thing happens with a DOD YJM 308. I was a willing passenger on this ride and loved every moment.
I would tell my self lies about the Croydon whenever I thought about it, I recently came across some old recordings on that guitar, instant and rather severe anxiety, think I just realized what that guitar was given my current frame of mind.
In that very moment, I called the friend I sold it to, he was gracious enough to get it on a truck headed my way the next day, I believe I teared up when he said yes.
The guitar arrived and looked like it wasn't played for 5 years. I cleaned/polished it well, switched to my regular 8-11-14-22-32-46 gauge strings, redid the setup. Plugged in, I must have played for 10 mins before I recorded that clip yesterday. Fit like a glove. It's a unique guitar, antique woods, single-piece back and top, no taper neck to my specifications, Brazillian board and, build by a master. It is lighter than my YJM strat, damn near perfect I'm happy to say, played it for hours last night unplugged too, it's got a lot going for it. Fun times ahead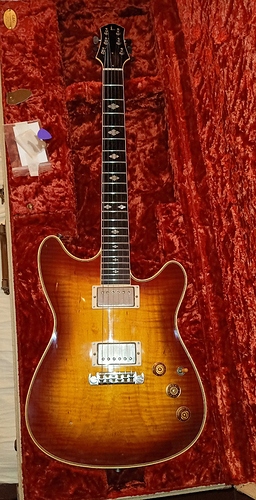 Notice the no taper neck, shoulders are done in a way that makes it more comfortable than a thinner neck.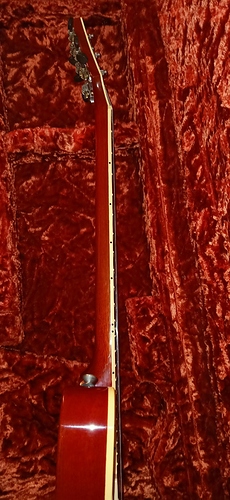 Small clip after the setup, was just getting reacquainted


Apologies for spinning this track for a while, still working on the rest. Trying to get the details right.
This one might just become my go-to, opens up some new tonal possibilities for me, plus it's a hoot to play, feeling a bit spoilt.