Hi everyone.
I made this thread a few days ago in which I basically ranted for several paragraphs about how much I suck. Real life of the party, I know

Anyway, the short version is that now that I'm several years into putting quite a bit of serious effort into trying to become decent at guitar, I keep hitting up against barriers which are making me suspect I have some sort of fine motor or coordination issue/disorder. In particular, I don't think my picking is what is necessarily holding me back, and I have definitely made good progress with my picking technique. Rather, I constantly feel like my fretting hand is slow, clunky, and uncoordinated. Specifically, it "runs out of gas" easily, has very poor timing precision of when fingers are to be lifted/placed, and even just plays the wrong notes for no reason. So… here goes.
Note: sorry, I am a fool and forgot about the 1-minute video limit! Feel free to skip to 1:23 and just look at that clip, as it's a good demonstration of the type of coordination issues I'm describing.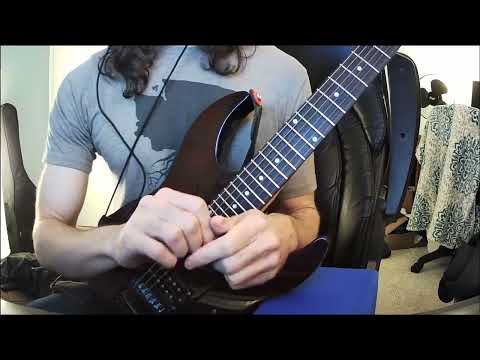 0:00 - Tremolo at 180bpm with a DSX motion (I'd love to get USX down but haven't figured it out). Maybe it's not perfect but I don't think it's too bad, and certainly not the source of my problems.
0:13 - As suggested by @Prlgmnr and @tommo, here's a clip of something I'm okay at - a little lick with some short bursts of fast-ish notes (groups of 4-6). I think this one is around 90bpm 16th note triplets but I can go faster as long as it's a short burst.
0:24 - Attempt at 6s legato at 80bpm, 110bpm, and 115bpm. It is… well, just terrible. Even at 80bpm, I struggle to stay in time. Beyond that, my fretting hand simply falls behind - it just won't move fast enough. My hand gets fatigued quite quickly doing this. A few months ago I did the first legato Rock Discipline exercise (John Petrucci legato lesson 1 - YouTube) for several weeks and made some early quick gains but not much after that.
1:23 - Attempting a lick of 17 notes I pulled from a song by tommo. The picking is mostly straightforward except I use economy followed by secondary escape motion in one spot. But that's not the problem, it's the fretting hand. This lick should be easy for me to get as I've practiced the LH patterns it uses a ton. However, you can see that I constantly play wrong notes (wtf!!!) and also get muted notes a bunch because my damn fingers aren't lifting fast enough. I even screw it up playing it slowly. This is how it goes pretty much any time I try to learn almost anything - my left hand just does not want to behave even it's an easy sequence.
2:41 - A little while back I was trying to go through Frank Gambale's Chop Builder, hoping it would help fix my fretting hand issues. I got stuck on round 2 of 9 - I simply could not get anything even close to up to speed. This lick in particular gave me a huge amount of trouble. Past around 90bpm, LH just up and dies.
3:09 - Showing off my hand sync issues with Thunderstruck. I've been trying to get the sync working on this for several weeks and some days I can get it okay but often it's like what you see in the video.
3:47 - I've been trying to get this lick from Crazy Train up to speed for almost a year. Sometimes I can get it messily at 120bpm but it's a disaster at full tempo (138bpm).
4:33 - Same lick but right hand view. Admittedly, part of the struggle in this one IS picking technique - this lick has a few spots which alternate between two strings and I haven't figured out how to do that consistently.
5:20 - Ascending chromatic run from Crazy Train. Totally failing to play it even at 80bpm up through 110bpm. Another case of "my hand just won't move that fast".
5:58 - One more lick from Crazy Train. Surprise! It's a complete utter mess!
If you made it through all that, then congratulations! You've suffered through what is probably the most piss-poor humiliating sequence of guitar clips ever posted to this website.
In all seriousness: every lick I posted here is something I've at least spent some amount of time working on and many of them I've put lots of hours into with little to no improvement. I've been playing guitar with quite a bit of dedication for just under 3 years - not a super long time in the big scheme of things, of course, but c'mon man… spending literally months practicing that one Crazy Train lick for hours and hours should lead to better results than it has.
I can already tell I'm just going down a dark mental path and this is devolving into another rant so I'm gonna cut myself off now. If anyone has any suggestions or advice, or sees anything in the video clips that I might be doing wrong, I am all ears, because I am simply out of ideas at this point - I truly do not know how to practice my way out of the problems I'm running into.
(In particular, I'd be interested in hearing @Tom_Gilroy's thoughts as he seems to have quite an in-depth knowledge of the anatomy of the hand.)
Thanks for reading.