Hey there,
I wanted to let you participate in a guitar project I started about 18 years ago. to be honest, I postponed it about 17 years ago


but I picked it up again and I'm looking forward to finish it within the next few months. I, together with a friend of mine, carved a new pickguard yesterday.
body needs to be repainted. I'm thinking about a singlecoil in the neck position, which I didn't plan to include when I first started the project. I really like the clean look of pickguards with little controls. The first version will thus only feature a volume knob.
Floyd and a white SD Humbucker are going to be installed.
Neck is from my first guitar, headstock has been removed and replaced by a custom made by myself. Got the body from Ebay.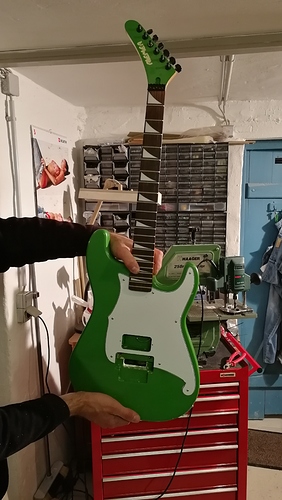 What do you think?
Thomas