Hey All - I recently figured out that I've been picking DSX style for nearly 25 years. For the past month I've been practicing two-way slanting to make gains.
While I understand the concept of USX/DSX relative to slanting, I cannot seem to get my escapes to occur on a straight line. Currently my picking looks exactly like DBX in the below image. Your help on my following questions is appreciated.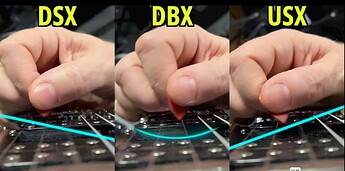 Any tips on achieving a diagonal picking line as opposed to DBX curved?

In the above image, Troy's pick angle looks tilted about 45 degrees, even though I think he calls this 0 degrees. Some people seem to have a flatter trajectory like the next image. Which is correct? When I try to achieve the flatter angle like below, my pick gets hung up more easily.