View this page on the Cracking the Code Platform:
We're making some final design tweaks to the Magnet, in anticipation of finally getting it manufactured!
See the linked post above for some preview photos — short story, we've got a couple modifications in the works, and are looking for any additional feedback, particularly if you've made the DIY Magnet already.
It's been several years since we first prototyped the Magnet and so far it's served us remarkably well so far. We don't anticipate too many more changes but we want to make sure it's as good as we can make it before potentially making thousands of these things. The two tweaks we've come up with so far:
Reversing the orientation of the Magnet, so it faces the bridge rather than the headstock, which will save a bit of space on the fretboard when it expands
A strap to better secure the Magnet/phone on the guitar, and serve as safety backup in case the Magnet gets bumped while you're playing
Have you made a DIY Magnet?
How's it been working? We'd appreciate any feedback about the design, or suggestions for potential issues to address.
Don't have a Magnet?
Want one? Any other thoughts / feedback / impressions welcome — we're excited about the prospect of more Magnet users and we'd love to hear what you think!
I'll be watching this and go in on the Kickstarter - I'd definitely like to grab one of these rather than trying to wrap one of those bendable phone tripods around the upper horn of my Strat.

I'd invest in one. Please make it work on left handed guitars though.

I bought the plans but didn't even try to build it. I would buy one if the price was good. I hope you can make it happen with some manufacturer!
I am excited to here that one day the Magnet will be available. As the old proverb says, "A picture is worth more than a thousand words". I have made huge improvements on my play thanks to your many videos, but a chance to see my own technique up close will help me refine it even more. I will be waiting for the Magnets release to the public!
I'm in for a pre-order.

I don't see why not, it's pretty symmetrical in the ways that matter!
Absolutely — if we can raise the initial funds to get at least a thousand or two made, we should be able to hit a pretty reasonable price point, probably < $50.
I've made the 3D printed Magnet and the improvement I'd like to see is a thumb screw type arrangement to tighten the phone clamp rather than it being spring loaded.
Trying to pull and hold the magnet open with one hand to load the phone without pulling the magnet off the neck or moving its location is kinda fiddly.
If a manufactured version were to slide much more smoothly than the 3D version that might also solve the problem.
Although I have the 3D magnet I'll sign up for a new and improved one.
Thanks
Count me in. I'll a few in a heartbeat. I don't have any suggestions yet since I've never been able to buy one.
What kind of funds do you need to raise in order to get this off the ground?
Sub fifty shmackeroos and I'd be down to preorder. I finally have an actual smartphone, so this is huge for me.
I'll be in for pre-order, too.
Can you have 2 phones at once in the magnet so you can record right and left hands at the same time?
Does it have to be a magnet that holds your phone? Couldn't you use an external camera that hooks to your phone? Like an endoscope.
That's definitely what we're hoping! It'll be smoother material and better tolerances, so ideally we'll get it to a point where you can open one-handed. Our new current safety strap design also serves to snug the phone in a bit too so possible we don't need quite so much spring tension, maybe we can experiment with that.
Depends on the final quotes we get (and minimum order quantity), but likely ~50-75k total. Our first Kickstarter attempt 5 years ago we had a 55k goal and raised ~20k. Our audience is much bigger now so pretty sure we can make it happen!
Prob won't fit two phones…but we're actually on the cusp of being able to do this with one phone! The latest iPhones support filming with front and rear cameras simultaneously (not sure it's available in app yet but they announced the hardware supports). I'd guess other phones in the near future will do this too.
Not sure I'm totally following, but smartphone cameras these days are pretty damn good, and nearly everyone has one, so seems the best way to go! Not sure an endoscope would get you high quality slow-motion video for example.
I'm a 3d printing enthusiast, I bought plans 3 or 4 years ago…reverseingenered them into STL models and printed at home.
It was one of my first prints. this diy have some flaws but it works perfectly till today.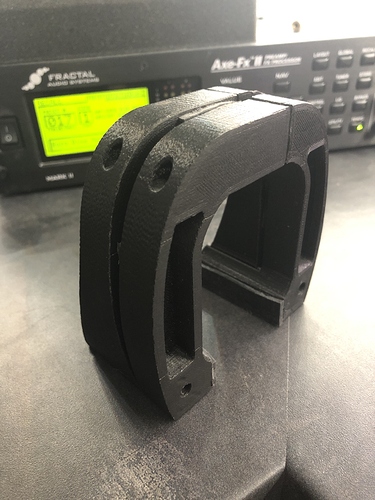 I have a great (IMHO) idea how you can improve the whole "magnet experience". it's a bit complex, but i want to share it with @Troy and i'm asking nothing in return even if he like it.
Please go on. That's exactly what this thread is for!
Lately I replaced a broken camera module on my phone. These modules are so tiny and small, I thought there should be place for a camera somewhere in the magnet itself.
So the Magnet could become the camera instead of holding a comparatively heavy phone.
I know these modules are no stand alone cameras and need the environment of a phone but still…
If I would find the time, I would experiment with clamps of all sort and attach something like this to it:

Cool for iOS there are already apps in the App Store that will do simultaneous recording of both cameras with a split screen. I will have to upgrade my phone!