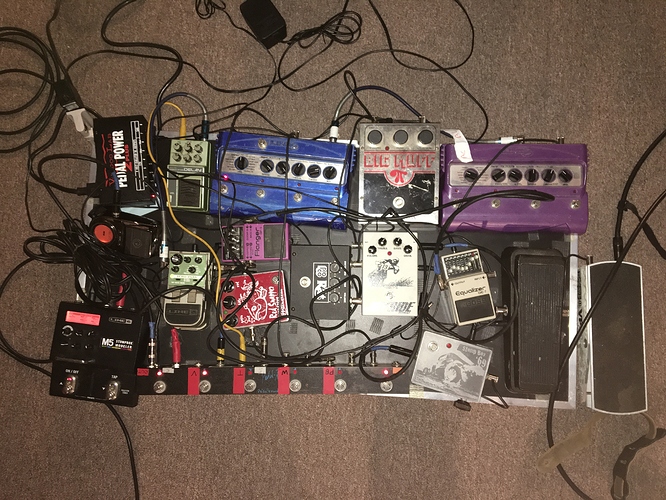 Redoing the old pedalboard – I'm still settling on the setup (for now), so I haven't got the Dual-Lock out yet.
No buffer – I just can't do it. I'm keeping the true bypass chain going (unless certain loops are kicked in, of course).
Volume, wah, and distortions are all before the looper. Loops are (for now) Boss EQ + Flanger, big L6 mods, Delays, tuner, and M5. The Planet Waves tuner is supposedly true bypass, but I'm not sure to what level I really trust that, so I just have it on its own.
I didn't want to burn a loop on the EQ alone, but it really should be before the distortions (so I can use it as a boost going in).
I just kind of used whatever cables were in the boneyard, and the bigger ones are getting in the way (of course). I always liked those George L's (there are a few on the board), but they start to get a little pricey. The secret with those is to use a little tape to keep the head from unscrewing – I think they caught on and started making plastic caps for them. Ten bucks a cable starts to get a little pricey, though, especially if the setup is still in flux.
I'm not super crazy about the Big Muff (or, maybe it's just a love/hate relationship or something). I like my Graphic Fuzz a lot better, but that thing is even bigger. The board needs a fuzz for sure, though. I could probably live without the Vintage Rat, too, especially with that Joyride pedal on there. I used to have a Whammy in the bottom right – I'm still on the lookout for another one. And I'm always tempted to do something like put an H9 and M5 on loops and ditch all the delay/mod stuff.
And if anyone's in the L.A. area with a stash of George L's or some extra proper pedalboard wires for cheap, PM me.