I use a technique called "thumb-muting", where the tip of the thumb is resting on the strings below the one you are picking (when playing the low E string i switch to standard palm muting).
It looks like this: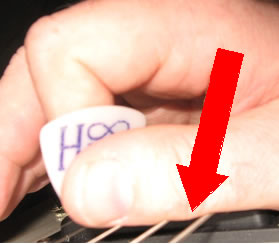 In the pickslanting primer, the only comparable pickers are the Grier Wrist motion types and they always use the heel of the Thumb as the main anchorpoint.
Same is true for wrist pickers like Andy. The thumb is very close to the strings but its not their anchor.

I sometimes wonder if i am in a dead end with this habit.
Can you point me towards an interview or a player who Troy analysed who does the same thing? I d like to find out more about my motions and how to optimize them for the technique but nobody really seems to do this.