I've been working a concept of how to develop speed and accuracy in a simple, methodical way. This came about from my rebuilding my picking technique from the ground up after finding Cracking the Code and Troy's discussion about chunking. It would great to get some feedback on this approach.
My theory is based around very short sequences, or tiny chunks. These are 3, 4, and 6 note patterns that you see everywhere. If you can play these tiny chunks fast and accurately then it stands to reason that you can play combinations of them fast and accurately with a little practice. The benefits of this simple method are:
Develops hand synchronization quickly.
It's relatively easy getting these tiny chunks up to speed.
Builds confidence in your ability to play fast. Again, if you can play the 3 and 4 note chunks fast, it stands to reason you'll be able to play combinations of them fast with a little practice.
We start by practicing these two tiny chunks. Play them using different fingerings (1-2-4/1-3-4), positions, and strings. You'll want to repeat each one for about 10 seconds, rinse & repeat. Do them while watching TV or listening to a podcast. By cycling these sequences you're learning to play each 3 note chunk starting with a downstroke or starting with an upstroke at the same time.
"A" chunk: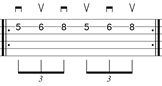 "D" chunk: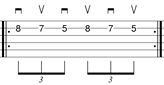 It won't take too long to get these to ridiculous speeds. When you do start cleaning up your timing with a metronome. For myself at the beginning playing these cleanly at 80 bpm was a struggle. After three months I had maxed out my metronome at 252 bpm.
Let's expand these by adding one note.
"C1":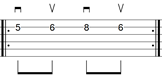 "C2":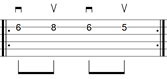 If you've been practicing your 3 note chunks you'll be blazing these in no time. "C1" is just "A" starting on a downstroke followed by the middle note of "A". If you start it on the 3rd beat it's "D" followed by the middle note. You could also look at it as "A interconnected with "D". Check it out.

You can play "A" and "D" fast, right? Therefore you can play "C1" fast with a little bit of practice.
"C2" is the same as "C1" but starting on a upstroke.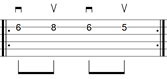 =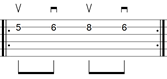 Take a look at the Yngwie sixes pattern. It's one note followed by the C2 pattern. Easy peasy.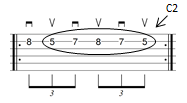 Once you have these tiny chunks down start combining them and moving them up and down the fretboard. Don't want to make the post too long, so I won't go into pickslanting, string changes, or working on single string combinations but here are a couple of examples of where I think the power of tiny chunks lie.
Here's a classic Yngwie style run:


Wow, that's a whole lotta notes! But you know what? You got this. This run is completely comprised of "C2" and "D" tiny chunks. Since you can shred "C2" and "D" you can shred this.


Gilbert Pattern? It's "C2" plus a note on a higher string.


Gilbert Sixes? It's the "A" chunk split between two strings.


This old chestnut? "C1" on the B string, "C2" on the E string.


When learning new licks and runs see if you can break them down into tiny chunks.
I've left out a few tiny chunks for brevity but the basic concept is here. What do all you think? Any merit to it?
Thanks!