Does anyone know why Dimebag Darrell put electrical tape around the headstock between the nut and the string retainer?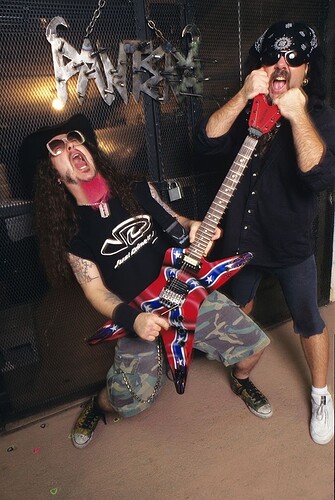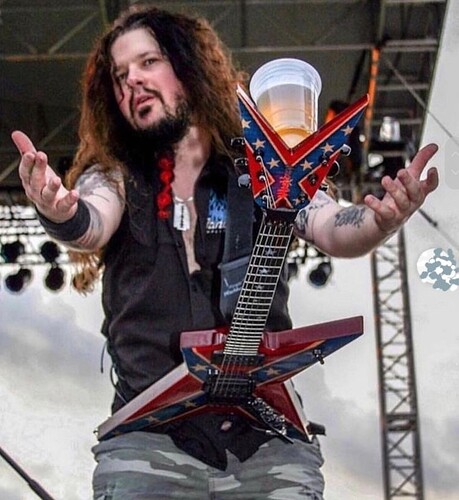 I'm guessing it was an effort to stop sympathetic vibration.
That's what I was thinking, but does that actually work when it's behind the nut like that?
Back in my band days the sound engineer in the studio had us weave a section of paper napkin on that area of guitar and he claimed it kept things cleaner. I took that to mean the sympathetic vibrations like @Riffdiculous mentioned. I also never understood how that mattered since I thought they usually came from un dampened strings, particularly the bass strings.
EDIT: but if Dimebag did it, we should probably all do it

It stops that part of the string from ringing, although I'm not sure the foam in the first photo would be very effective between the nut and string retainer. With enough gain you can usually hear it if you hit a chord hard then stop it quickly. Or, compare strumming behind the nut with and without something muting there.
Well Dimebag definitely had enough gain lol! I think I've seen Rick Graham put a fret wrap in that area too, maybe not back quite that far but seemingly not on the strings enough to get the effect that wanna-bees like me use the fret wrap for (i.e. keeping it "clean" while playing lead in the upper position)
I wrap a tea towel on the strings near the nut when recording lead, unless I'm playing down there or using open strings of course. I don't practice that way or anything, just like to get my recording done as quickly and easily as I can. Must try wrap it behind the nut and see if it does anything…
The sympathetic vibration is pretty likely the reason.
If you strum the strings behind the nut, you get a rather unpleasant sound. With gobs of gain, those (usually masked) frequencies might cause trouble?
Actually, I think that the headstocks on the Deans would break really easily so the tape may have had something to do with that?
I don't think electrical tape would be adequate for fixing a broken headstock.
He would be more likely to get noise and sympathetic vibrations from the floyd and the springs than the clamped off part of the headstock.
I guess I've never noticed this being present unless deliberately strumming behind the nut (a la runnin' with the devil intro) but it makes sense we'd hear this as described above - hit it hard with lots of gain. The context of my recording experience is that we played high gain stuff, lots of palm muting and 'choked' notes to get that very tight metal sound. Also, the sound engineer I mentioned wouldn't even keep takes unless we played very aggressively. It was funny, after a good take he'd say "Wow that was perfect. Now do it again and play it like a man this time!!!". He had great ears and I suspect during all the editing he did over his career, he'd heard instances of these sympathetic vibrations bleeding through.
lol Of course not! However if it was broken repeatedly and then glued, maybe some tape might cover up the scarring.