Hello @Troy, CTC crew and everybody! Thanks so much for the hard work. I'm excited to be practicing with Pickslanting Primer. Here's my first video for critique:
I'm trying to find a reliable picking motion, angle and grip for upstroke escapes, and be able to keep the motion trajectory solid. This video has 3 different view angles (they're different takes) and I think I did mostly alright in the first two. The third one isn't that good, you can see my form breaking a little, thumb wrapping and missing some upstrokes. What do you guys think overall?
Pick grip: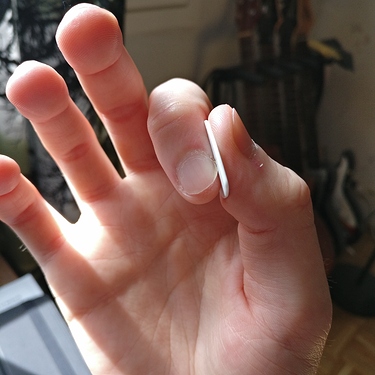 The problem that sometimes surfaces is that when I go to what I think is "fast picking", my picking trajectory can start fluctuating and become this random crossfiring pattern. I think my form has probably broken at that point and I just don't recognize it, but sometimes it doesn't feel like it has. My picking can sometimes go parallel with the strings, disabling any escapes.
At higher tempos I pick with a smaller motion and I need to check constantly visually that my picking path is still such that it could actually escape on the upstroke if I wanted. At this time, playing with a wide picking motion feels pretty clumsy at higher tempos.
In concrete terms, one of my goals is to develop a technique where I can easily use cool alternate picked, 3-notes-per-string 16th or sextuplet runs that lead into the "main notes" of solos (like in basically every John Petrucci solo ever), avoiding stringhopping, changing strings cleanly, without banging into adjacent strings and losing control etc. Same goes for fast riffs of course. I'm big into progressive metal and I love music like Dream Theater, Haken and Symphony X, but my alternate picking is too random and I'm not handling string changes properly to sound clean.
Thanks for any feedback and keep on rocking!